"He's so brave! I wish I could be like him... an example for the whole railway."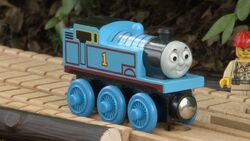 Thomas
Number: 1
First Appearance:
Friends: Everyone (except enemies)
Enemies:
Voiced By:
Thomas is a cheeky blue tank engine that works on his Branch Line with his 2 coaches, Annie and Clarabel.
Bio
Thomas was the station pilot at Vicarstown for 8 years until he rescued James from a terrible accident. Since then, The Fat Controller has given him a branch line of his very own, where he now works happily with Toby, Percy, Daisy, Mavis, and occasionally Billy and Rosie.
Thomas and Gordon formed an alliance after many years to put an end to Splatter's behaviour (a plan similar to 1 of Thomas' run-ins with Gordon!)
Thomas befriended Paxton while Paxton and Norman were sent to help with the heavy workload. 
Thomas rescued Daisy from a Collapsing River Bridge while Rosie looked on. 
During 1 of his many 'specials', Thomas' path became intertwined with the dark events surrounding the Thin Controller. He first met Skarloey and Rheneas, before his train was mysteriously diverted to another track, preventing a hitman from shooting the Thin Controller. Mighty Mac blamed this on pigeons, and so Thomas' driver had them go slowly. Eventually though, Thomas grew impatient and picked up speed...causing him to slide onto slippery rails and into a fortune-teller's tent. The fortune told spoke of great change on the horizon, worrying the blue tank engine, particularly the part where he would be lost in the universe. He wondered if he had any control over it, or if he would do things just because he had to. This caused him to meet the Thin Controller once again, who consoled Thomas about this. Thomas would apparently take the man home numerous times afterward... 
Much later, when BoCo and Arthur were discussing the mysterious markings of The Man in the Hills, they came across Thomas, who identified the figure as a legend Sir Handel had informed them of during The Thin Controller's birthday party, much to the surprise of the former 2. 
Persona
Thomas is a cheeky little tank engine with a long tongue, but he has proven his worth on multiple occasions. He does his best to help others and takes it upon himself to mend any sort of predicament. He is held in high regard, and even has his own branch line. He has been known to serve as a representative for all the engines on the North Western Railway on many occasions. Despite his cheekiness, he is a friend to all, and he is always willing to help a friend in need.
Appearances
Trivia
Gallery