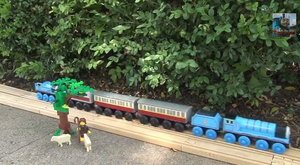 The Wild Nor' Wester
is the express train that
Gordon
usually pulls. It often consists of three coaches and a luggage van.
History
The Wild Nor'Wester has been on the North Western Railway since it's origins. The route of the famous Express runs from Sodor to London and back. Gordon normally pulls it for which he is very proud.
When Gordon is not available or is ill, Henry or James takes charge of the express. Bear and BoCo can also be called upon for this job from time to time.
Gallery